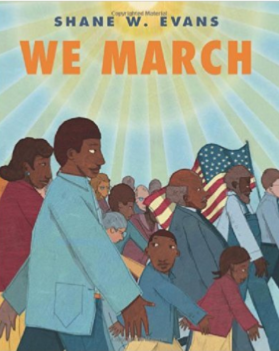 We March by Shane W. Evans is a book about standing up for justice written for our youngest children and for early readers. The soft pastel illustrations show a family as they wake up early in the morning, prepare for the day, and then join thousands of other people for the August 28th, 1963 March on Washington for Jobs and Freedom.
Gathered on the Washington Mall, in front of the Lincoln Memorial, the family listens to Martin Luther King deliver his "I have a dream" speech.
This is wonderful book for showing children ages 3 to 8 how we can stand up peacefully for what we believe in, and demonstrates the power that people have when they stand together in common cause. We March was selected as one of 2012's Best Children's Books by Kirkus Reviews.
Have you ever marched for justice?
Would you take your children with you?