Written by  MaryBeth Lorbiecki, Sister Anne's Hands, is set in the 1960s.  Told from the viewpoint of a white second grade girl, this is the story of a nun with dark skin who comes to teach in an all white Catholic school.
The young narrator has never seen a black person before. She comes to love and respect her teacher. But when a racial slur occurs, the teacher, after calm thought, displays images and materials about the civil rights movement and teaches her students what hatred really is. The dedication in the book is to "those who teach and celebrate our common humanity."
This book is appropriate for elementary level students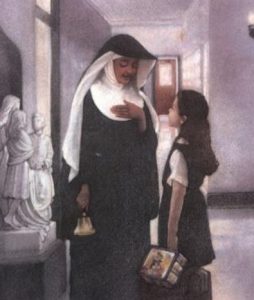 Guiding Questions/Activities
Before reading:
Why do some people hate people with a different color skin?

Why do people have different color skin tone? - Read All the Colors We Are to answer this question.
After reading:
What can we do about hatred?
What can we learn from Sister Anne about how to fight hatred?
About the Author
Visit MaryBeth Lorbiecki's website at  http://www.marybethlorbiecki.com/
Awards for Sister Anne's Hands include
Storyteller World's Award 1999; International Reading Association Best Books of the Year 1999 (starred); Bank Street College Children's Book of the Year; New York Public Library Notable Trade Book for Young People 1999 in Social Studies, in Literary Arts; Living the Dream Award 2000, Manhattan Country School.