This is our cry. This is our prayer. Peace in the world.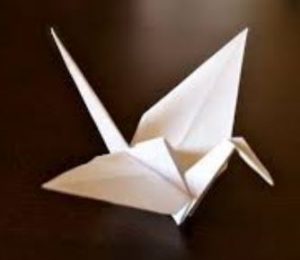 Sadako was a young girl who was exposed to the atomic bombing of Hiroshima and who developed leukemia from the radioactive fallout. In Japanese, Korean, and Chinese traditions cranes stand for long life and good fortune. Read the story of the crane here.
Sadako set out to fold 1000 origami cranes for health and world peace. She only completed 644 before she died. Her classmates completed the rest.
Today school children make origami cranes in her memory and as a dedication to world peace. The actual construction of the crane is one of the more difficult origami figures for children to do. It takes perseverance and patience, a good lesson to tie in with the idea that creating a peaceful world will also take a great deal of personal commitment and patience. It may help to have two children work as a pair. This video is a good demonstration of how to fold one.
For younger children try an origami dove which is slightly easier. Click here for a video example.
Origami cranes can be made for any number of occasions including Peace Day September 21, winter solstice and holidays as decorations, and Hiroshima Day August 6 and Nagasaki Day August 9th. But most importantly, they should be made as a prayer for peace in the world year round. You can mail your cranes to Peace Promotion Division, International Peace Promotion Department, The City of Hiroshima Yosuke Tone 1-5 Nakajima-cho, Naka-ku Hiroshima 730-0811
Related Activities
Read the picture book Sadako by Eleanor Coerr (elementary) and/or the chapter book Sadako and the Thousand Paper Cranes by Eleanor Coerr (upper elementary/middle school). For a visual experience of the books watch this student-made video
Questions to ask:
How can we make the world a more peaceful place?
How does making the origami crane/doves remind us of ways to support world peace?
What should be done about nuclear weapons?
Other resources
Videos
A visit to the Hiroshima Peace Memorial Museum and Sadako's story (upper elementary and up) in cartoon form. (some graphic images)
A short retelling of Sadako's story using illustrations from Sadako and the Thousand Paper Cranes by Eleanor Coerr
2000 Paper Cranes: a Memorial to Sadako An artist's personal project 70 hours folding 2000 cranes to create a portrait of Sadako.
The History behind the Bombings from history.com
Video re-enactment of the dropping of the bomb on Hiroshima and Nagasaki with interviews of eye-witnesses (high school-college. Very graphic.)
Websites
Hiroshima Peace Memorial Website features a virtual tour for adults and one for children The Kid's Peace Station
Books
The Thousand Paper Cranes: The Story of Sadako and the Children's Peace Sculpture by Ishii Takayuki (Upper elementary and up)
Hiroshima by Lawrence Yep (upper elementary novel)
Hiroshima by John Hersey (middle school - adult)
Lesson Plans
Teacher's Guide for Sadako's Paper Cranes and Lessons of Peace by Stanford Univeristy (upper elementary/middle school)
Thousand Paper Cranes (upper elementary)
Sadako book activities (second grade and up)
e-themes Sadako literature activities including webquests and data collecting sites (upper elementary - high school)