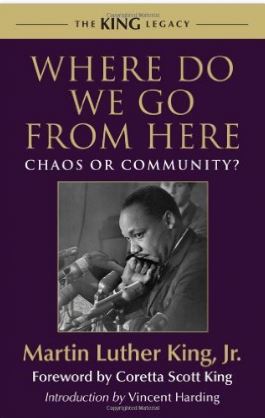 Where Do We Go From Here by Martin Luther King, Jr.
Written in 1967, this book is a book of hope. Here Martin Luther King lays out his dream and strategic plans for the future and how his goals might be reached. Not only does he focus on the familiar and still existing need for jobs, good education, decent living conditions, and adequate wages in this country, but he makes the point that we have the resources and technology to end global poverty and suffering.  The fact that his dream hasn't happened is something we all need to ponder.
So if you haven't read this book or read it long time ago. It is time to read it again. As one reviewer writes: "Over 45 years after its publication, this is a very relevant manuscript on America and her true potential."