This is the season when we think about giving gifts to the people we care about.  The following books take gift giving to a higher level and force us to think about what is truly a gift. Perhaps one of these book will prove the perfect gift for a child you love.
Those Shoes by Noah Z. Jones
What happens when you dream of owning black high tops with two white stripes, and you actually get a pair? Do you keep them or do you give them to someone who needs them more? Sometimes the best gifts are the ones that are hardest to give. Primary through intermediate elementary.
Follow up the reading of this book by asking: Which of your belongings would be the hardest to give away to someone else?
Now One Foot, Now the Other by Tomie de Paola
Wilfred Gordon McDonald Partridge by Mem Fox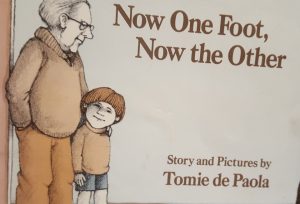 In these two classic children's books, the main character gives a gift that is priceless--the gift of time and caring. In de Paola's story a young boy, whose grandfather has had a stroke, helps his grandfather recover. As he helps his grandfather learn to feed himself and walk again, he also shares back the stories his grandfather had told him before his illness.
In Mem Fox's beautifully illustrated book, another young boy likes to visit the people in the old peoples' home and listen to their stories. When he finds out his friend Miss Nancy is losing her memory, he sets out to find a basket of gifts that will help her remember.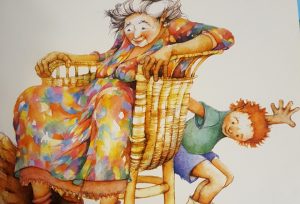 Both of these will appeal to preschoolers to primary age children, but can also be read to upper elementary as a lead in to a discussion of what is a true gift.
A Chair for My Mother by Vera B. Williams
This widely read classic and Caldecott winner introduces the idea of coming together to help each other as well as the value of saving and self-sacrifice in order to acquire something special. The little girl in this book has lost everything in a fire, and while she and her mother find a new home, it is very bare. Neighbors, friends,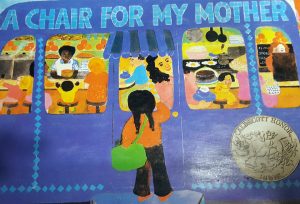 and relatives help them fix it up, but there is no comfortable chair. Together she and her mother save up the money until they can buy that one special chair--a gift for themselves. Perfect for preschool through intermediate elementary.
Follow up a reading of this book with a discussion of saving money to buy something special, rather than spending on instant gratification. What makes something a gift? Was working hard to buy something for themselves a gift or was the chair a gift to each other?
Beatrice's Goat by Page McBrier
Giving to charity is another way to give. This book written in support of the Heifer Project tells the story of girl in Uganda, and how the gift of a goat changes her life for the better. Primary to Intermediate.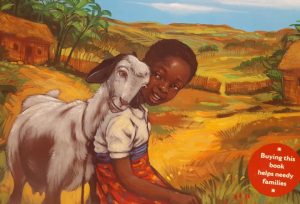 Reading this book can lead into a discussion of why those who can should help those who are in need. Have older children research the different types of charities and what they do. If desired, collect money for a charity of their choice.
The Gift of Nothing by Patrick McDonnell
Sometime choosing just the right gift is hard. Many times gifts are given that seem impersonal or are things not really needed. You need to know the person well and be aware of just what the person likes and wants to pick out the perfect gift. In this profound little picture book, a cat tries to find the perfect gift for his friend. But his friend has everything. So instead, he gives a huge empty gift wrapped box and himself. Preschool and up.
Use this book to talk about what makes the perfect gift. Does it have to be something you bought or can you give something of yourself?
Mayfield Crossing by Vaunda Micheax Nelson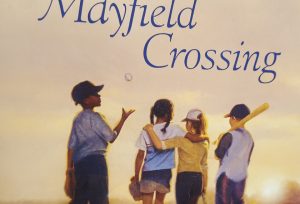 When Meg's school is closed, she and her friends must go to a new school. But Meg and her friends are black, and the students in the new school are white. Meg wants to play on the baseball team, but some of the white students wouldn't let her. The two groups challenge each other to a baseball contest. But Meg's team only has eight players and stands to forfeit the game until one white girl breaks ranks and joins their team. This short novel is perfect for intermediate to middle school.
Follow up questions: Is volunteering or standing up for others a gift? Can some gifts change how people think?
---
What do you think is the perfect gift?
We welcome your thoughts and comments.